Brunch is be the perfect meal to celebrate a long weekend in style
As the social season kicks off, a celebration breakfast or brunch is an excellent way to get into the swing of spring.
Here are a few tips to hosting the perfect brunch:
Keep the food simple. Think pastries and fruit or bacon and eggs on the BBQ. You don't want to be up prepping at 5am.
If you don't mind last-minute? labour, try poaching your eggs in Champagne. Serve with ham and bread charred on the BBQ.
Keep your drinks menu light and refreshing. Champagne's tart bubbles are the perfect thing to cut through rich foods like eggs and pastry and most match well with fruit.
Be innovative with alcohol-free options. A good fruity punch with a hint of effervescence will keep guests pepped up and hydrated.
Bubbles
The simplest way to serve bubbles at breakfast is with a mimosa – one part orange juice to three parts sparkling wine, although half in half works too if you want a lighter option. Use the best quality bubbles you can afford. Where possible go with freshly squeezed orange juice and always make sure everything is perfectly chilled.
The twist: Swap the oranges for grapefruit juice or even stewed rhubarb, or try immersing frozen or fresh raspberries in a little vodka and sugar syrup overnight. Add a couple of teaspoons of the mix to a tall flute and top with Champagne.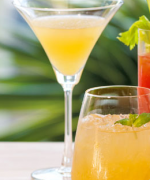 Marmalade Martini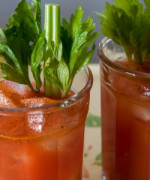 Ketel Bloody Mary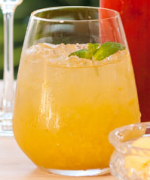 Non-alcoholic Tropical Fruit Punch