Alfred Cointreau is the sixth generation of the family that created one of the world's most popular liqueurs. On a visit to NZ to promote the company's newest product he talks about what makes Cointreau unique.
When Alfred Cointreau has some time to unwind, he heads home to Angers, France, the city that's also home to the liqueur that bears his family's name.
While there he generally catches up with his father over a cigar and a large snifter containing two parts Cointreau, one part Remy Martin XO cognac. That particular marriage made in heaven is so favoured by the Cointreau family that they've gone a step further, working with Remy Martin to produce Cointreau Noir, a new premium liqueur, just launched to the New Zealand market.
Alfred, heritage manager for Cointreau, a sixth generation member of the family that first produced the liqueur, will visit to New Zealand to showcase the new product in person.
"Cointreau Noir is the 'small brother' to Cointreau; a beautiful creation," Alfred says. "The perfect wedding between 70% of Cointreau, sweet and bitter orange peels and 30% of cognac."
The Noir launch will be Alfred's first visit to New Zealand, another stopover in what seems a near never-ending world tour of Cointreau's markets. No wonder he needs to relax over a Cointreau and cognac at home.
"Part of my heritage manager job today is to travel where Cointreau is and meet people who work around the brand, but also bartenders. Those travels are very important to me because I meet people and when you look from the beginning of Cointreau to nowadays, it is a history of passionate people."
He says New Zealand is an interesting market for Cointreau and he's looking forward to introducing Kiwis to a little more of the brand's heritage. "I would like [Kiwis] to know first the birthplace, Angers. Angers is a beautiful midsize city on the west side of France, between Paris and the Atlantic Ocean, at the heart of Loire Valley. Still today, it has only one distillery and one master distiller, Bernadette l'Anglais to make Cointreau. She respects the authentic recipe, perfected by my great, great, grandfather, Edouard."
And what does he know of New Zealand so far? "I know it is a beautiful Pacific Island with exoticism and sun. I know they are the best in rugby."
The 27-year-old joined the family business three years ago when he realised no-one else from among his cousins and siblings was involved, and the family ties with the liqueur they created were at risk of petering out. His only regret, he says, is that he didn't start earlier.
Not that the liqueur was ever far away. "My first childhood memory of Cointreau is the smell. I remember the first time I went to the distillery. I came to this beautiful shiny room with a warm temperature, the flavours of sweet and bitter orange peels were unforgettable. Even today when somebody asks me which flavour do you want, I always choose orange."
If he's forced to choose his favourite cocktail he opts for the Cointreau Fizz – 2 parts Cointreau, 1 part lime topped with sparkling water in a glass filled with ice. "I love it because wherever I am it's very easy to find the ingredients to mix it. And it's very refreshing."
But he adds: it's important to have more than one favourite cocktail. "I think you could have one cocktail for each hour of the day, or depending on your mood." As an aperitif to stir your appetite before dinner Alfred prescribes a White Lady – Cointreau with gin. "After lunch, Cointreau on ice. During a romantic dinner; a Cosmopolitan. A party with friends? A Margarita. It all depends on the context, and on your personality."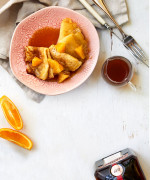 Cointreau Pancakes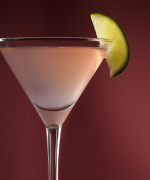 Perfect Cosmopolitan