Discover the incredible history and refined taste of one of the world's premier Cognac houses
Founded in 1715, Martell is the oldest of the great Cognac houses. With 300 years of passion and precision passed down through generations of the Martell family, this is more than a fine spirit, it's a celebration of the French "art de vivre" (art of living), treasuring the beauty and pleasure of every moment. As a result, Martell Cognacs follow a rich history of honouring craft and taste, enjoyed by everyone, from royals to Hollywood stars, to intrepid polar explorers.
Cognacs to try
Martell Cordon Bleu
The result of a blending process of more than 100 eaux-de-vie (literal translation is "water of life" but the term refers to clear fruit brandy), sourced from the four main crus (vineyards) in the Cognac region: Grande and Petite Champagne, Fins Bois and Borderies. This blending process was originally conducted by Edouard Martell and his cellar master Auguste Chapeau in 1912, however Martell Cordon Bleu has remained true to the original style ever since. "Here, we have a unique Cognac in the XO category," says Christophe Valtaud, Martell Cellar Master. "Martell Cordon Bleu is endowed with beautiful complexity and rich aromas, making it a legendary Cognac. Its high proportion of Borderies marks this blend, expanding on its caramelised character with the smoothness of sweet spices, gingerbread and roasted cocoa beans."
Martell V.S.O.P Red Barrels
For this special spirit, eaux-de-vie blends harmoniously with the subtle woody overtones from red barrels, so named because of the reddish colour of the aged wood. Maturation in these very rare fine-grained oak barrels for at least two to eight years produces an exceptionally rich and refined Cognac with enhanced delicate fruity aromas and notes of citrus and spice.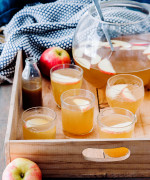 Brandy Toffee Punch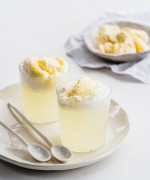 Cognac Snowball