Find out where the Canadian Club journey began
Refreshing and smooth, and bright gold in colour, Canadian Club 1858 is the whisky that started the legend. A giant of Canadian whisky since 1858, this whisky is aged longer than the three years required by law in oak barrels before bottling for the smoothest possible flavour.
This whisky has a fresh and soft aroma, with an almond nuttiness and a hint of peppery spice. Spicy and zesty on the tongue, complimented with hints of rich oak and sweet vanilla and a pleasant sweetness. The finish is clean, dry and lingering, with subtle flavours of oak.
Canadian Club 1858 is a great 'introductory' whisky; not too much, but definitely not too little either. Try with soda as a simple mix, or in a classic Old Fashioned cocktail.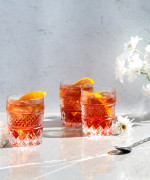 Classic Old Fashioned