Serve yourself a glass of something tasty with our pick of the best drinks with coffee aromas and flavours.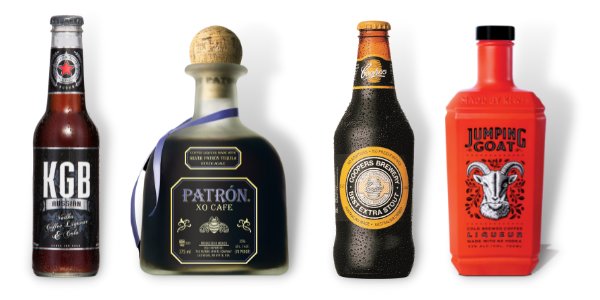 Grab and go-go-go with KGB Black Russian – a vodka flavoured mixer with black coffee liqueur.
Premium silver tequila meets natural coffee essence in Patrón XO Cafe Liqueur, for a smooth and dry sip with aromas and flavours of fresh roasted coffee with an undercurrent of tequila.
The aroma is a rich and complex one. Initially it is a strong roasted malt character with undertones of chocolate, nuts, black coffee and tobacco which then develops with age into that of raisins, smoked wood and liquorice.
Organic cold brew coffee with spices, spring water and exquisitely pure New Zealand vodka. Shake 60mls of this coffee infused liquor with 30mls of espresso/nespresso coffee at home, to make the easiest Espresso Martinis known to mankind.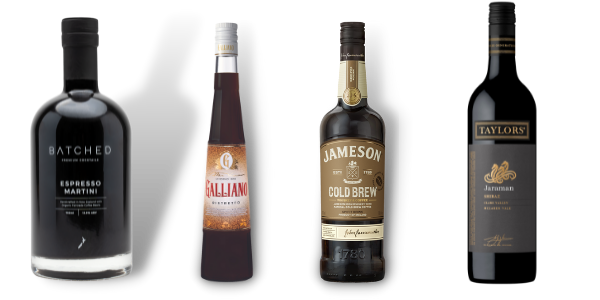 A premium ready-to-drink Espresso Martini cocktail. Rich and dark with a hint of chocolate. Ready in 30 seconds, simply shake over ice and pour to enjoy.
Made with a mix of different varieties of coffee bean, blending strong and bitter flavours with creamy and chocolatey ones for a sip that's equally delicious on its own, in cocktails or just poured over ice cream.
Coffee and Irish whiskey are no strangers, but at Jameson we couldn't help but wonder if there was more to their story. So we found a fresh new angle into a classic partnership with Jameson Cold Brew.
This is a luscious wine with layers of flavours of dark berry fruit, ripe cherries and plum along with attractive oak characters of roasted coffee beans and spice.
You'll find spirits, liqueurs, wines and beers, plus a wide range of mixers, in your local Liquorland store and at liquorland.co.nz