Head Bartender Casady Gray-Contreras talks cocktail crafting, D.I.Y trends and what she's loving at Queenstown's latest drinks haven, Little Blackwood.
Little Blackwood
Queenstown has recently welcomed another gem to its vibrant bar scene.
Located on the water's edge in the heart of Queenstown, Little Blackwood is all about craft cocktails, local brews and wine, signature cheese and meat boards, and plenty of tapas-style nibbles. With its roaring open fireplace, heated outdoor deck, and bespoke handcrafted Blackwood furniture, it's the place to be after a day conquering the slopes
Head Bartender Casady Gray-Contreras is busy whipping up delicious winter cocktails along with the rest of the Little Blackwood crew. Casady gives us a rundown of her favourite trends, ingredients and liquors.
Mixology Trends
D.I.Y
Whether it's in-house infusions, housemade flavoured sugar syrups, different types of bitters or getting creative with garnishes, I think the ability to create and keep cocktail elements in house is making a big impact on keeping bars unique.
Cocktail execution
I prefer to perfect the classics and stick to great spirits, fresh citrus and herbs, which will then thoughtfully create a simple, fresh cocktail. When it comes to creating new speciality cocktails, I try to pick something I've never played around with and then start adding things that might compliment it.
Half the fun is making something awful for the chance of creating something quite tasty!
What I'm Loving
Fresh ingredients
Fresh ginger, red chilis, herbs and freshly squeezed juices are essential in crafting a flavour profile to pair and contrast with whatever liquor you're using.
Rum
I've noticed New Zealand is full of rum drinkers. It's a very approachable liquor that can be played with in a number of ways.
The people
Part of the fun as a bartender is interaction. I love picking my customers brains to see what kind of alcohol they're comfortable with and then trying to get them into a cocktail that they would have previously overlooked. Cocktails can sometimes seem a bit pretentious or over done and at Little Blackwood we want to tear down that stereotype and make our drinks approachable.
We want our customers to feel comfortable asking us questions and picking our brains as well. People want to be engaged and are looking for suggestions. And with the right suggestions you can keep them coming back week after week, open to trying new things.
Little Blackwood is open daily from 3pm till late. Pop in and say hello at 88 Beach Street.
Image credit: Jason Kelly Photography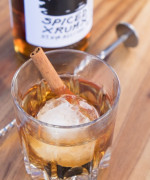 Barreled Cinnamon