The Glenfiddich 50YO is a true heirloom, with only 50 bottles of this Single Malt released each year. This is your chance to own one.
The exclusive and rare Glenfiddich 50YO Whisky isn't just liquid gold – it's a handcrafted piece of history. This heirloom is the pinnacle of Glenfiddich's years of whisky-making. This exquisite whisky has been drawn from two casks, which have both spent the past 50 years maturing in the darkness and chill of Warehouse 8. Before bottling, our Malt Master married them for six months with great care in an American oak barrel to give the wondrous array of flavours and aromas an unrivalled harmony.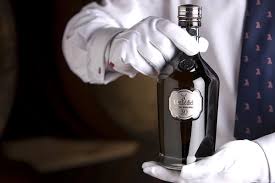 Every single bottle of this extraordinary Single Malt is uniquely hand-blown and individually numbered in wax before our sixth-generation silversmith, Thomas Fattorini, applies his finishing touches. Presented in a classic, hand-stitched, black leather case with accompanying hand-woven silk lining and a certificate of authenticity and details book, one is left in no doubt as to the pedigree of this creation.
The golden amber liquid is beautifully harmonious, with an uplifting, vibrant and complex aroma. Delicate floral notes of rose petals and violets are intriguingly intertwined with green tobacco leaf and oak, and just a faint hint of smoke.
The taste is initially very sweet, with a zesty orange marmalade and vanilla toffee, which then cascades through a wonderful series of layers: aromatic herbs, floral and soft fruits, silky oak tannin and hints of gentle smoke. This pulls through to an exceptionally long finish, with a touch of dry oak and just the merest trace of peat.
Only 50 bottles of the Glenfiddich Single Malt Scotch Whisky 700ml, RRP $50,000, are released in a year, making it very sought-after. For expressions of interest, please email [email protected]