By fermenting then distilling sugarcane molasses, the Caribbean's created rum – the go-to grog for pirates in the 18th century and a spirit that continues to evolve today – we're hooked


This Bay of Islands rum is blended with natural spices sourced from around the globe and nothing artificial – no flavour concentrates, no fake vanilla aromas, just pure rum and spices. Here, they let the rum do the talking. "Some batches are ready quicker while others take longer. We're in no rush, we let the spiced rum tell us when it's ready."
As legend has it, a Kraken was a sea monster known to feed on whales, ships and men! The Kraken Black Spiced Rum is made from a blend of light, molasses-based rums produced in Trinidad and Tobago and infused with 11 herbs and spices. Perfect with cola, ginger beer or in cocktails.
A blended rum meets exotic spices to create a unique and distinctive flavour profile. Those familiar with saffron cake will certainly find a hint of that alongside notes of Pedro Ximénez ice-cream. Next comes a whisper of creamy caramel followed by vanilla, cinnamon, nutmeg and undertones of orange. Vegan-friendly.
Mount Gay is the oldest rum in the world, with 310 years of artisanal rum-making expertise. Fermentation, distillation, aging and blending all take place in Barbados. Mount Gay's signature style is ageing and blending single and double-distilled rums. Black Barrel is a blend of aged rums, matured for a second time in charred bourbon oak barrels.
Unlike most Caribbean islands, Barbados was created by coral reefs. There, the ground water is purified as it's forced through natural limestone. This exceptionally pure water, coupled with carefully selected sugarcane from across the Caribbean and South America, lends the smoothness that's central to Bumbu's drinkability.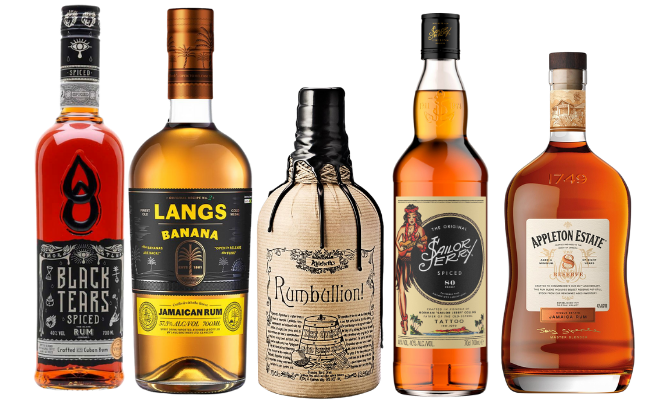 Distilled from exceptional molasses and sourced near Cuba's northern coast, Black Tears is spiced with coffee and cacao. Its low-sugar content sets it apart and makes this unique to other spiced rums. Black Tears mixes beautifully in long drinks and cocktails to add drama and depth.
With big flavour and funk, this "tropical sunshine" holds true to the original 1860s Lang Brothers Banana Rum – tropical and characterful, packed with vibrant exotic fruit notes. A blend of molasses-rich, pot and column distilled Jamaican rums from ex-bourbon American white oak casks. Also available
in Mango & Ginger; and (recent gold-medallist) Pineapple flavour.
An award-winning spiced rum, exactingly blended using carefully-selected Caribbean rum, Madagascan vanilla, orange peel, cinnamon, cloves and cardamom. Its rich, complex and intensely decadent and is equally at home being sipped on a winter's evening as it is enjoyed in the summer sun, or in all manner of cocktails! Basically, it's rather tasty and deserves to be drunk.
Developed after loads of historical research into maritime rums, the all-natural spices and flavours give this rum a smooth taste, characterised by top notes of vanilla and cinnamon. More than anything else, it's the spicing that is responsible for the distinctive character, smoothness and versatility of this rum. Perfect for mixing in cocktails like Long Island Iced Tea, Mai Tai, Mojito and Hot Buttered Rum
At the heart of this Jamaican rum lies two old, rare marques of rum set to age in oak barrels. This small batch of "reserve stock" rum is monitored carefully through to maturity and once the stock is at its prime, it is hand-blended with 18 other aged rums to create just the right balance.