You've probably noticed that the cool room at your local Liquorland is packed with a brightly-coloured range of RTD cans and bottles. What are they exactly?
The name RTD (ready to drink) was once associated with syrupy sweet alcoholic fizz, usually in glass bottles, often in dazzlingly brightly-coloured hues and mainly drunk by a younger crowd on a Saturday night. Loaded with sugar, these 'alcopops' were easy-drinking lolly water for those who found ber and wine too bitter or acidic.
Showing up first in the mid-nineties, these drinks were often spirit-based, vodka or bourbon (or occasionally wine: who can forget the questionable joys of a Miami wine cooler on a hot summers day?), and were embraced as enthusiastically as a new alternative in the alcohol category.
25 years on, and this category looks very different now - a lot bigger, and definitely a lot more diverse. From smaller independent outfits to popular big players, it seems everyone has an RTD in their range, all varying in mixers, flavours, sugar and alcohol levels. Even beer, cider and kombucha makers are in on it! The pre-mixed market has never looked so interesting.
Most people will have heard the word 'seltzer' pop up at some point - but what is it? Incredibly popular in America, a hard seltzer is sparkling water mixed with some kind of alcohol - this can be fermented cane sugar with added fruit flavours, malted barley, grapes or other supermarkets.
The best way to navigate the RTD category is to try for yourself, as different base alcohols will appeal to different palates. Spirits are a great place to start, with classic favourites like the Cruiser range mixing happily alongside some new rockstars of the RTD world, like the rum-based Kraken and Cola, and whisky-based Major Major. In vodka, Smirnoff's latest flavour, the Smirnoff Seltzer Mango, is well worth a try - if only to remember this winter how delicious tropical flavours are. Roll on summer...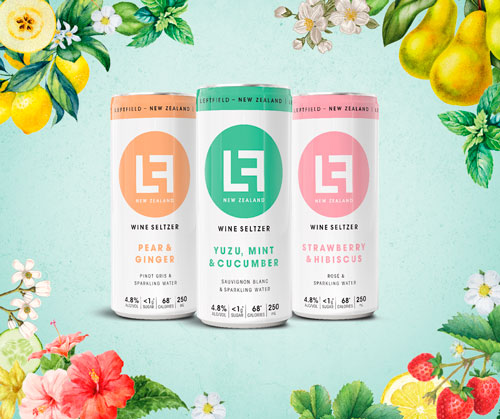 Wine more your thing? Leftfield's range of wine-based RTDs have proved very popular as a tasty tipple, Particularly delicious is their Rosé-based Strawberry & Hibiscus flavour - but that's just our opinion.
Usually better known for their ciders, Zeffer has fully embraced the RTD culture, and has just introduced an alcoholic Ginger Beer that's very hard to resist.
A lot of RTDs talk about lower sugar these days. It's a very appealing category for people looking to cut their calorie and sugar intake, and white spirit RTDs currently make up nearly half of all RTD sales in New Zealand. Perhaps the best known in this category is Pals, which contains sparkling water, vodka, apple juice from concentrate, natural lime extract, citric acid and natural lime flavour.
Whatever your flavour, there's no doubt about it; the RTD landscape is a brave new world. It's a great place to go if you're after something that's not like your usual tipple - so stick a toe in the (sparkling) water and give one a try!