Make like the Irish and enjoy these local drops for St. Patrick's Day!
St. Patrick's Day may be known for parades, shamrocks, leprechauns and the colour green, but it's also a day where your local Liquorland enjoys an Irish beverage boom!
Here's what people are buying for St. Patrick's Day this year.

Black Bush owes part of its distinctive taste to the old, Spanish-sherry barrels of jerez de la frontera. It'll float across your tongue to the back of your throat where it rests as a slight sherry sweetness.
Small batch distilled in West Cork, not far from Graham's Cork home. When the weather is right and the flowers are blooming, local ingredients are foraged to round out the blend of 12 botanicals that gives a flavour as distinctive as the man himself.
Guinness is known worldwide as the beer of Ireland, and the gold standard for stouts. With an initial malt and caramel flavour, Guinness Draught finishes with a dry roasted bitterness.
Kilkenny is brewed at Ireland's oldest established brewery, St Francis Abbey in Kilkenny city, which dates back to the 14th century. Kilkenny is a rich and creamy ale with a smooth, clean taste.
Since its creation in 1974, Baileys has only ever been produced using the best quality ingredients - fresh Irish dairy cream, Irish whiskey, finest spirits, with exclusive chocolate flavours and vanilla.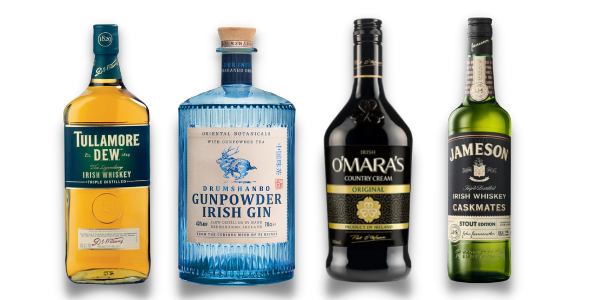 The original blended Irish whiskey, known the world over for its smooth and gentle complexity.
An oriental-inspired spirit from The Shed Distillery in County Leitrim that's setting the world alight. Taking its name from one of the signature botanicals, slowly dried Gunpowder tea, the recipe also includes lime, lemon and grapefruit.
An Irish country cream of extraordinary smoothness, made with the sweetest, richest cream in all of Ireland.
Jameson Caskmates has been finished in stout-seasoned whiskey casks. Notes of cocoa, coffee and butterscotch confirm the stout influence.