Named after the yellow flower of the Mimosa tree and made famous by royalty, the Mimosa is a brunch-time staple
Legend has it that Mimosas were originally called Champagne Orange drinks and originated in French wine country.
The British royal family are said to have made the drink popular when they "brought it back" to England, where it was enjoyed as a Mimosa.
"Champagne and orange juice is a great drink. The orange improves the champagne, and the champagne definitely improves the orange," the late Prince Philip once said of the Mimosa, which is the name for a flower (pictured above).
What's in a Mimosa?
It's very simple. Just equal parts of orange juice and champagne (or sparkling wine if the budget doesn't allow) typically served in a champagne flute, but a martini-style glass or highball also works well.
Variations of Mimosas can be made by adding syrup, using a different juice, or switching sparkling white wine to sparkling rosé – whatever tickles your tastebuds.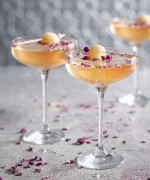 Lychee and Rosé Mimosa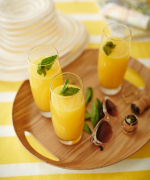 Mimosa