This Friday 28th May is Gumboot Friday, a fun way of helping raise money to provide free counselling for Kiwi kids between 5-25. Toast chatted to Gumboot Friday founder, comedian Mike King, and winemaker Nathan Nola of Hope Wines to find out more
Gumboot Friday was established in 2019 with the aim of providing free counselling for all Kiwi kids between the ages of 5 and 25. At present, young people have to wait up to 12 weeks to visit a mental health professional in the public health system. Gumboot Friday has signed up over 3850 registered health professionals for their kids to visit when needed, with counsellors making contact within 48 hours.
"Since 2019, Gumboot Friday has raised over $2 million, paying for over 17,000 sessions for over 5,600 kids," says I am Hope and Gumboot Friday founder Mike King (left, top image). "Nearly 40 per cent of our clients were aged 11 and under - an age that worries a lot of people. But these kids aren't unwell - they recognise that talking to someone is going to benefit them and they want to stay well."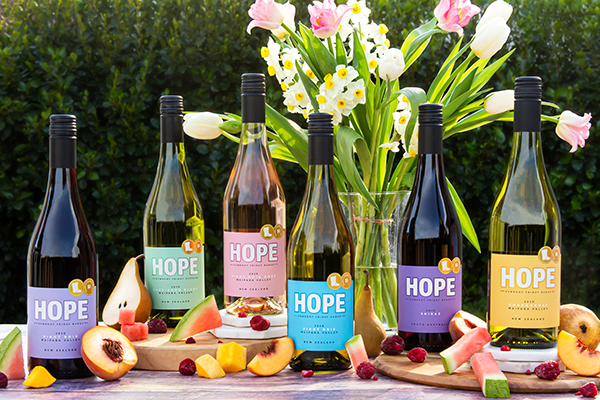 Winemaker Nathan Nola (centre, top image) launched Hope Wines in the later months of 2020, in partnership with Mike King and his I Am Hope charity. For every bottle of Hope wine that's sold, $1.00 per bottle is donated into the Gumboot Friday fund, so funding for this vital mission can continue.
"My family has been making wine for over 100 years; I'm the fourth generation of winemakers and I wanted to come in and do something a little different," explains Nathan. "I love to give back, and I want to carry on the family winemaking legacy, so this is the perfect fit.
"Creating this brand, and donating with every bottle sold is one way I can show support, and it's a way I know I can give back. Wine consumers now have the opportunity to make a difference with their wine purchase, by choosing a wine that's giving back to the community."
The Gumboot Friday range, available at Liquorland, is created in the South Island wine region of Waipara Valley (excluding the Australian Shiraz) includes seven different varieties: Sauvignon Blanc, Pinot Gris, Chardonnay, Riesling, Shiraz, Pinot Noir Rosé and Pinot Noir.
You can show your support for Gumboot Friday in several ways, including by buying a bottle of Hope Wine at your local Liquorland, plus you can support the 100km for $100K here. https://givealittle.co.nz/event/gumboot-friday-2021.