Marlborough winery Grove Mill has revealed a stylish new look to celebrate its ongoing commitment to sustainability.
Grove Mill has embraced the importance of a sustainable future for over 30 years. Since its founding in 1988, the Wairau Valley winery has been making wine with as much thought to the environment as wine excellence, and the new look of the newly-released 2020 vintage wines is a nod to the winery's legacy and commitment to sustainability.
The new packaging has important built-in sustainability features: the bottles are made from recycled New Zealand glass, which reduces the winery's carbon footprint as well as supporting the local glass industry. The bottle caps are also locally made, and the stylish label is made from sugar cane - a highly renewable material that's an abundant by-product of the sugar industry.
The Grove Mill winery itself is powered with the help of over 300 solar panels, reducing the amount of energy drawn from the main grid; they even give back to the main grid when the panels produce more than the winery needs.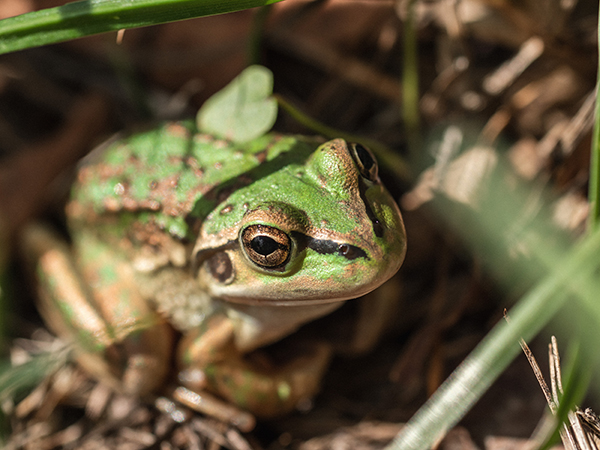 The bottle caps feature some of the critters that populate the well-established wetlands beside the Grove Mill winery. This flourishing habitat plays an important role in maintaining a healthy ecosystem, and is home to several native species of flora and fauna, including the Raupō, Southern Ladybird, Pacific Black Duck (Pārera) and New Zealand Falcon (Kārearea), as well as the Southern Bell Frog (above) - and, of course, the all-important bees and insects.
And of course, along with the long-term sustainability programme, the winery also has a legacy of wine excellence that has been built over the past three decades. Grove Mill Sauvignon Blanc this year received a coveted and well-deserved place on the Fine Wines of New Zealand list, adding to the list of trophies and accolades awarded to the winery.
The Grove Mill range includes Sauvignon Blanc, Chardonnay, Pinot Gris, Rosé and Pinot Noir and is available from Liquorland stores nationwide.