Gone are the days when whisky was purely the domain of your granddad; at a recent event at The Sugar Club in Auckland's SkyTower by The Glenlivet, it was party vibes and incredible cocktails all round! We've nabbed a couple of their cocktail recipes for you to try
Spiced Spey Coffee
15ml liquid chocolate

10ml sugar syrup

75ml strong (filter) coffee

40ml lightly whipped cream
Warm a small wine glass with boiling water. Pour out the hot water. Mix the chocolate, whisky, coffee, syrup and cayenne pepper together in a heated glass. Gently pour the cream over the back of a spoon to create a creamy layer. Garnish with chocolate shavings, adding a small pinch of cayenne pepper if desired.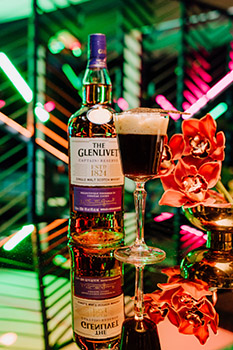 The Glenlivet Royale
15ml lemon juice

15ml honey water

80ml Champagne or sparkling wine (we used Mumm Grand Cordon)

Lemon twist
Pour The Glenlivet 12, lemon juice and honey water into a chilled flute. Top with champagne, stir and garnish with a lemon twist.