Show your support for The Food Show Christchurch while getting yourself in the draw to win tickets and an amazing pack of the Show's products
This week we are sending some major love Christchurch's way as Cantabrians prepare to host The Food Show in the Garden City. In addition to the lives that have been directly affected by the events of 15/3/19 and the impact it's had on all New Zealanders, we acknowledge the local hospitality and food community in Christchurch, which has provided immediate and ongoing support to those who need it.
In a few weeks, from 5th-7th April, the annual Food Show Christchurch will take place, showcasing the incredible talents of this local community and its national stars. Bringing together people over food is one of the most uniting things, and festivalgoers can stroll the Street Food Alley for international street eats, meander along Brewer's Lane to sample and chat about craft beer with the creators, and get inspired to try new things via cooking demonstrations and speakers such as Josh Emmett, Annabel Langbein and Jax Hamilton. Tickets to The Food Show Christchurch are available from www.foodshow.co.nz. General Entry gate price $20, Child (6 – 12) $15, under 5s are free, seniors $18 (Friday only).
This week Liquorland Toast is giving one lucky reader a Food Show Christchurch Hamper, valued at over $150 (pictured below). The Hamper includes a double pass to the show plus Pic's Really Good Boysenberry Jelly, Proper Crisps, Pure Delish Pecan, Ginger & Coconut Nograin-ola, a Ceres Organics Raw Wholefood Bar, Honeywrap Reusable Food Wraps, a Happyhire $50 voucher, Fresh As Freeze Dried Lychees and Panna Cotta, Fresh Paper produce saver sheets, Kiwi Crush Freeze Dried, Em's Power Cookies Hemp Protein Cookie, Omega Plus King Salmon Dog Treats and Meatmates Freeze Dried Dog Food Topper.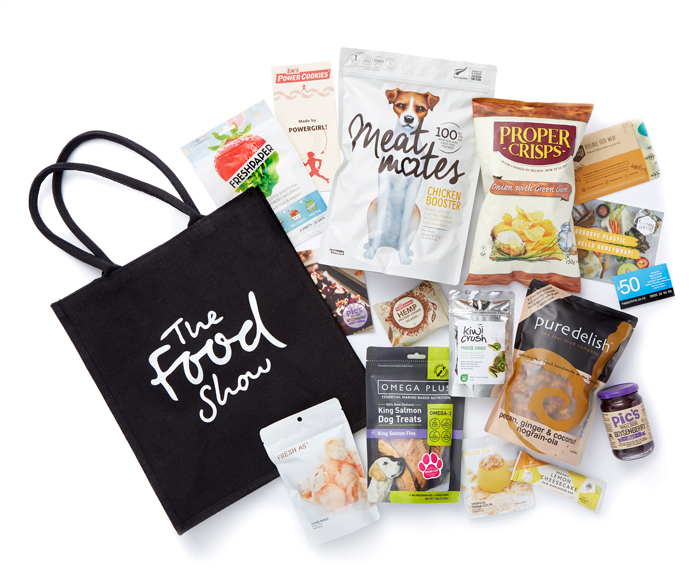 TO ENTER, click here