Get yourself in the draw to win $50 of chocolate to celebrate the launch of new Whittaker's assortments
As you might know, we're a teensy bit obsessed with Whittaker's chocolate here (and here and here) at Liquourland Toast, but can you really blame us when their products taste so bloody good?!
Just in time for Christmas they've launched two Whittaker's assortments, each containing a selection of their addictive compulsive delicious chocolates.
Whittaker's Artisan Squares Selection contains 18 individually wrapped chocolate squares from six of Whittaker's amazing Artisan Collection chocolate bars (pictured below left): Hawke's Bay Black Doris Plum & Roasted Almonds in Dark Chocolate, Marlborough Sea Salt & Caramel Brittle in Creamy Milk Chocolate, West Coast Buttermilk Caramelised White Chocolate, Wellington Roasted Supreme Coffee Dark Chocolate, Marlborough Sea Salt & Caramel Brittle with Saffron in Dark Chocolate and Nelson Pear & Manuka Honey in Creamy Milk Chocolate.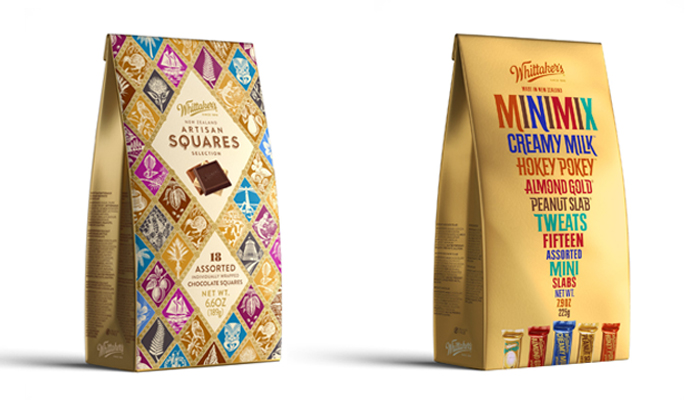 Whittaker's Minimix Assortment contains a selection of 15 assorted mini slabs of five of Whittaker's iconic chocolates (pictured above right?): Creamy Milk, Peanut Slab, Hokey Pokey, Almond Gold and Tweats.
In celebration of Whittaker's amazing new assortments this week Liquorland Toast and Whittaker's are giving one lucky reader the chance to win a bumper chocolate hamper. The prize is worth $50 and includes two assortments and eight full-sized blocks of chocolate, as detailed below:
1 x Whittaker's Artisan Squares assortment
1 x Whittaker's Minimix assortment
1 x 100g Whittaker's Artisan Marlborough Sea Salt and Caramel Brittle with Saffron in 62% Dark Chocolate
1 x 100g Whittaker's Artisan West Coast Buttermilk
1 x 100g Whittaker's Artisan Caramelised White Chocolate with Gingerbread Biscuit in 28% White Chocolate
1 x 100g Whittaker's Destination Madagascan Sambirano Extra Dark Chocolate 82% cocoa
1 x 100g Whittaker's Destination Caramelized Cashew with Australian Wattleseed in 33% Creamy Milk
1 x 100g Whittaker's Destination Colombian Mango with Passionfruit in 28% White Chocolate
1 x 250g Whittaker's Creamy Caramel
1 x 250g Whittaker's Dark Salted Caramel

TO ENTER, click here