What happens when four firm friends, a passion for beer and a thirst for success come together? Change happens, as The Independence Collective has shown us

It wasn't so long ago that siblings Janie Tutton and Nathan Martin, and their friends Neville Pugh and Cameron Stichbury were desperately seeking employment. Like many young people on the Kāpiti Coast, they were faced with a hostile market full of poorly paid, low-skill opportunities that didn't fill them with enthusiasm. Unlike many others, they had an added challenge – all four friends have an intellectual disability.
"Individuals with an intellectual disability are still subject to potential minimum wage exemptions in New Zealand," says long-time friend Gordon Cumming. He notes that most people who fall under the remit of the exemption bracket end up with minimum-wage, low-skill employment opportunities regardless of their actual abilities – if they can get a job at all.
"Janie had taken 30 CVs out around Kāpiti looking for work but got no replies," says Gordon. "Neville was working part-time at The Warehouse in Porirua, but Nathan and Cameron were not working."
Then one night, over a beer with Gordon, the fabulous four cooked up a plan. If they couldn't get work, then they would create their own, starting a craft beer label that would give them business experience and the financial independence they craved. Gordon, who is employed by IHC, agreed to be their full-time business support, and The Independence Collective was born.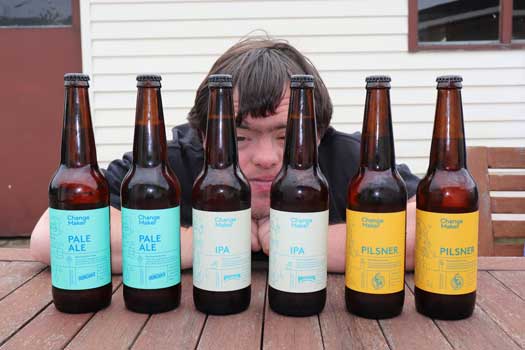 "The idea for the collective is to take individuals from what can be seen as the bottom of the ladder and place them on top. There is no reason why an individual with an intellectual disability should not own their own business. They have exactly the same rights as anyone else with an idea for a business," says Gordon.
"It was important from the outset that Nathan, Janie, Neville and Cameron understood and managed the business themselves. We have a number of industry insiders that have provided support and guidance but the ultimate decisions lie with them."
They might be at the top of the ladder, but Janie, Nathan, Cameron and Neville have been involved in everything, from flavour-profile discussions with contract brewers to cleaning out pipes and boxing up product. And it hasn't all been a smooth ride.
"The first challenge was getting the business off the ground with no money to start with," says Gordon. "They overcame this by running a PledgeMe campaign."
The next challenge was selling the beer.
"None of them had any sales experience whatsoever. With support, they have managed to sell their first two batches of Neville Pale Ale and are now working on a national deal with Foodstuffs and Liquorland."
The new range, Change Maker, developed with support from Auckland branding experts Milk, consists of three beers: a Pale Ale brewed by Duncan's Brewing Co, a Pilsner brewed by Moa and an IPA brewed by Behemoth. Janie, Neville, Cameron and Nathan were directly involved with recipe design.
"Our latest challenge has been getting things on time," smiles Gordon. "Our labels did not arrive so they had to label 12,000 bottles of beer themselves with a desktop semi-automatic labelling machine. It took them almost two weeks! It was amazing to see them working so hard. They are really committed to the success of their business."
Launched with the tagline "Brewing better lives", The Change Maker range from The Independence Collective includes a pale ale, a blend of American and New Zealand hops producing a clean malt balanced with crisp tropical flavours at 5.6%; a clean, crisp pilsner at 5.3%; and an IPA with forward grapefruit, tropical and stone fruit underpinned by a balanced bitterness.
"They've all grown so much over the past 12 months especially in their level
of confidence," says Gordon of the team's experience. "They've had amazing support from the brewing partners and the craft beer industry has welcomed them with open arms."
As well as having their product on sale in 13 Kāpiti bars and a national distribution contract on the table, the team have also been approached by potential partners wanting to develop other product ranges, including coffee and chocolate. It's a long way from unemployment and assisted living.
"Ultimately the goal was to build a brand that would support individuals with an intellectual disability to gain financial independence. Not as workers but as business owners," says Gordon. "If you were to ask them what they did now, they would tell you they owned a brewery."
And a damn fine brewery it is too.