Beautifully bright, fabulously fruity and super easy to make, it's no surprise sangria has become the summer drink of choice. Here, we introduce you to a slightly alternative version – cider sangria. It's about to become your new favourite refreshing summer tipple
People have been enjoying sangria for hundreds of years, with early versions traced as far back as the Middle Ages. Back then, it was known as hippocras – a form of wine spiced with ginger and cinnamon. By the 1700s and 1800s, red wine punch made with claret, brandy and fruit had become a high-status party drink right across Europe. Spain embraced it with particular fervour, and today Spanish people from all walks of life enjoy numerous forms of sangria – from more traditional red wine versions to 'sangria blanco' (made with white wine) and 'zurra' (packed with peaches and nectarines). The Spanish knew a thing or two about living well – afternoon naps, vibrant evening gatherings, good company, hearty food, and generous pitchers of fruity goodness to wash it all down with.
Today, we're seeing another welcome evolution begin to take shape. Set to take this summer by storm, cider sangria adds a kick of fruity fizz to the traditionally smooth, sweet recipe. Like all forms of sangria, it's simple to make and superbly refreshing on a hot summer's day. The hardest part is cutting up the fruit!
Orchard Thieves' latest offering – Berry Cider – and Monteith's Dark Fruits Cider both make a lively, deeply flavoursome sangria base. Choose Berry Cider if you favour the taste of sweet, ripe summer berries, or Dark Cider if you want to savour something a bit more spicy. Add your favourite sparkling wine and fruit, and enjoy the centuries-old joy of sangria (with a little modern magic).

Test out our tried and true cider sangria recipe:
Refreshing berry cider sangria (Serves 2)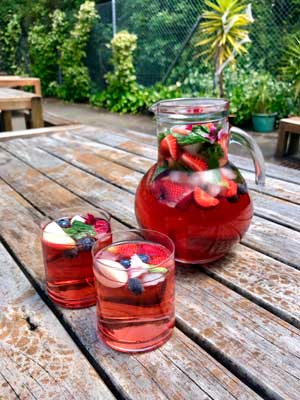 Ingredients
2x 330ml bottles of cider of choice (Monteith's Dark Fruits Cider or Orchard Thieves Berry Cider)
100ml dry sparkling white wine, well chilled
A few slices of fresh apple
A handful of fresh or frozen berries (blueberries work well)
Ice
Edible flowers and mint for serving
Method
Add ice to a large jug
Pour in cider, sparkling wine, apples and berries
Stir and serve in glasses with edible flowers and mint to garnish