Courtesy of Peroni Nastro Azzurro, Peroni Libera 0.0% showcases all the world-renowned skill and flair of Italy's premium beer brand – minus the alcohol content

The alcohol-free beer trend shows no signs of going flat.
With an increasingly wide variety of brands to choose from, beer lovers have more ways than ever before to be part of the action when alcohol isn't an option.
Now there's a stylish new offering set to give the category a shake up.
The result of time-honoured brewing traditions, Peroni Libera 0.0% isn't your average alcohol-free beer. Effortlessly stylish in a sleek, streamlined bottle, it's a Mediterranean gem that delivers a first-class taste experience. ?It's fair to say the Italians know a thing or two about beautiful craftsmanship.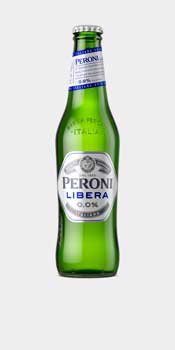 Showcasing a rich, intense collection of flavours, Peroni Libera 0.0% begins with strong hops and citrus notes followed by a delicate fruity aroma and a clean finish. It's the result of a unique recipe that includes Peroni's signature Italian maize, producing a pale gold, refreshing beer perfect for any occasion – whatever you've got on the next day!
Alcohol free beer sales are sitting at 2.1% of the total beer market worldwide. In some markets, it's as high as 10%. Plenty of Kiwis are on board too, wanting to live more balanced lifestyles and becoming more health-conscious. As we juggle increasingly busier work, family and social lives, a brew that offers flexibility (and a clearer head) has obvious advantages. But it's still got to taste like beer!
So is it possible to enjoy a full life AND a full-bodied alcohol-free beer?
Give Peroni Libera 0.0% a try, and find out for yourself.