Fortune favours the brave – a saying that inspired the name of a bold brewery, and its founders, who threw themselves head first into New Zealand's craft beer scene

Sometimes you just have to take the leap. And that is exactly what Shannon Thorpe and Dale Cooper did. Taking the leap in 2016, they quit their day jobs, and embarked on the adventure of setting up a brewpub in central Wellington's Leeds Street Precinct.
Referred to by locals as 'the brewery with the giant hand', Fortune Favours has become a popular addition to the thriving Wellington craft beer scene. The brewpub site gives Shannon and Dale the opportunity to brew a variety of beer styles and gather instantaneous feedback from their customers.
More than 100 different beer styles have been tried and tested since they opened, with the most popular beers scaled up and made available in pack format.
The bravery paid off with Fortune Favours quickly growing. The range is now available in stores nationwide.
Here, we list each of the Fortune Favours brews and give you a taste of
what to expect from every style.
Both the cans and the bottles come in 330ml packs of six and are priced at RRP$22.99 per pack.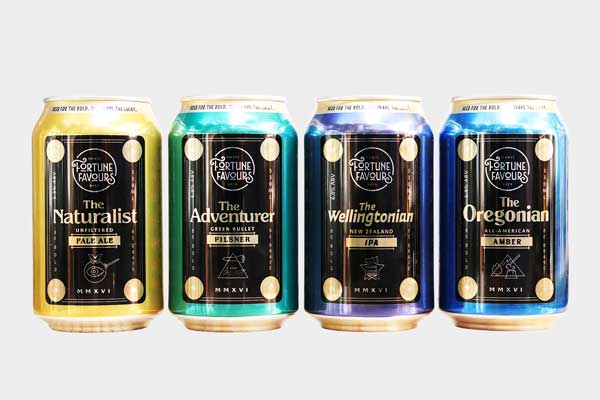 The Naturalist
The Naturalist is a what-you-see-is-what-you-get type of pale ale – golden, rich and perhaps a little hazy. The Naturalist is unfiltered, preserving a light haze and has flavours of citrus, sherbet and a hint of white pepper.
The Adventurer
The Adventurer uses New Zealand's world-famous Green Bullet hops to deliver a classic Kiwi pilsner. It's fresh and resinous with a spicy, dried fruit character.
The Oregonian
The Oregonian is a tribute to the pioneering craft brewers in the Pacific North West. American hops deliver pine and citrus aromas, and flavours meld with the malt base to deliver a tasty, balanced and highly drinkable beer.
The Wellingtonian
The Wellingtonian is packed with aromatic Wai'iti and NZ Chinook hops on a light malt base – recreating a classic New Zealand IPA in a truly Wellington way.
The Sunchaser
The Sunchaser uses crushed Pacific Rose, Fuji and Royal Gala apples combined with blueberries to create a crisp blueberry cider with a medium-dry finish.