Andrew Childs, founder of fast-growing Kiwi brewery Behemoth, has big plans on the horizon
A degree in law isn't a very traditional route into the brewing business, but then Andrew Childs isn't a traditional kind of guy. At 34, and standing 6'5" tall, he is the founder of Behemoth Brewery, one of the fastest-growing craft beer businesses in New Zealand; he's married to cured meats expert Hannah Miller, better known in the food world as The Lady Butcher, and over the past six years he has brewed well over 100 new beers – and that number is growing daily. He is currently working hard with Hannah to open a new brewery-bar-eatery on his current site, on the corner of Charles Street and Dominion Road in Auckland, and the passion he has for his job is both apparent and infectious.
"I started brewing as a hobby and quickly became obsessed with it – it didn't take long for me to realise life is too short to carry on doing something you don't love," says Childs.
"The legal profession wasn't for me, and I was already passionate about brewing. So nine months after starting it, I quit and went to work at the Fork & Brewer brewery in Wellington."
Just as he was leaving that job, he won the home brew competition 'Wellington In A Pint'. Despite being so new to the game, he entered 13 beers into the competition. A coffee brown ale named after Wellington mayor Celia Wade-Brown was the winner, the prize for which was having his beer made commercially with independent brewing company Yeastie Boys. It was a great start – and Childs hasn't looked back.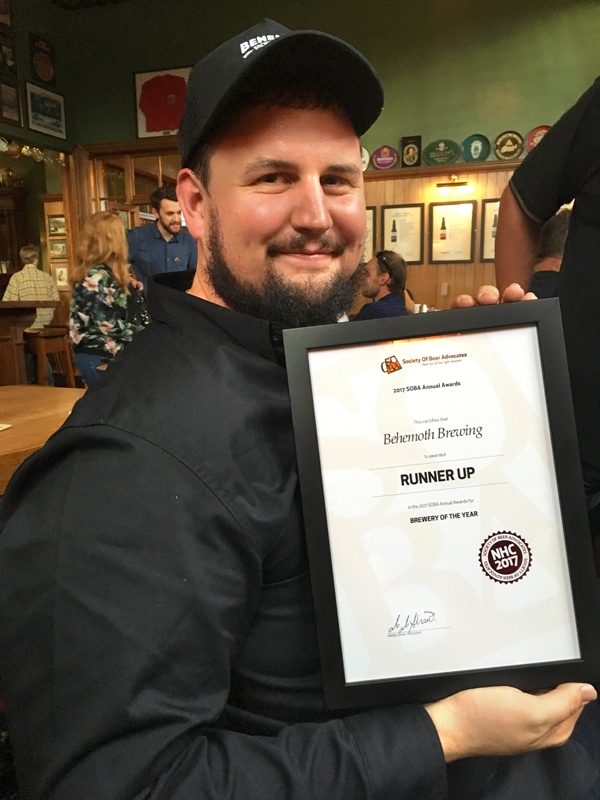 What's in a name?
Behemoth (so named as an irony, in part because of his height, and in part because his little company was the opposite of the massive multinational breweries – an irony that is becoming less ironic daily) has seven beers in its core range, but always has at least 10 varieties on the go.
At the end of 2018 they began a series, the first of which was called Drink Yesterday Hazy IPA, and in 2019 continued with Drink Tomorrow Imperial Stout. In February they launched a 9.5% beer, Churtz's Insane Hazy Double IPA, in collaboration with Heart of Darkness craft brewery in Ho Chi Minh City, Vietnam.
Childs is nothing if not creative with his beer names, and his Dump the Trump beer last year made headlines – and became extremely popular too. Music City Hazy IPA and Brain Smiles Hazy IPA have been re-released, and a new series, called Hazy Hop Buddies, is being rolled out. It's a nod to 90s TV series Friends, with the first beer named Rotten Rachel, and the next Joey and Chandler. "I just have an overactive imagination!" says Childs, who has more American duos in mind for his next creations. "I'm thinking, Riggs and Murtaugh from Lethal Weapon – a cop series or something. With our standard beers always on sale, as well as several limited editions, we always have several beers on the go. We're in it for the long term."
It hasn't always been an easy ride for Childs; in 2015 he and a friend were involved in a brewing accident while creating Behemoth's In Ya Face IPA. Both brewers sustained burns to about 40 per cent of their bodies and the recovery was slow and painful. But it hasn't deterred Childs from creating his passion. "Hannah and I both work a lot, especially with the brewery and butchery space opening later in the year – we'll be crowdfunding from May to help with the capital," he says. "I love it. It's what I do. We never go hungry for food or beer though!"