Thirst-quenching drinks to enjoy on Friday night when the Black Caps take on Bangladesh in India, at the ICC Cricket World Cup.
The ICC Mens' Cricket World Cup is on in India (go Black Caps!), and the Kiwi summer of cricket is about to begin.
We scoured the shelves at Liquorland for the best multi-packs and handy carry boxes to quench your thirst while you watch the games.

Image credit: instagram.com/cricketworldcup/
We're starting off staying true to New Zealand's love affair with sporting black colours with a 6-Pack of Canadian Club. The premium Whisky & Dry has a smooth, full flavour, mixed with a less sweet dry ginger ale mixer.
A great game of bat and ball is better with pals to enjoy it with, and as a nod to the Beige Brigade (and New Zealand's former beige uniform) we love Pal's recent release, Pals The Beige One. Pals have a wide range, so choose a taste or tone that has "appeal" and enjoy.
That hot, dry pitch calls for a cool, dry drop. Speight's Summit Ultra Low Carb is a refreshing golden lager with a crisp finish. Brewed for longer it has 75% less carbs than the average carb content of leading NZ beer brands, making it a great 'better for you' brew.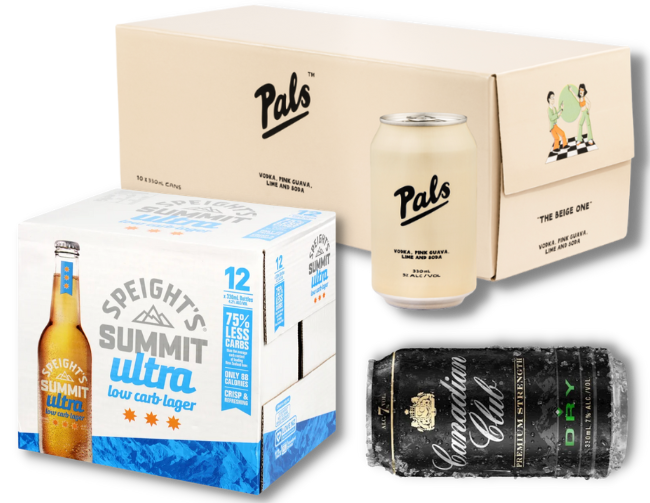 Just like three slip-catchers who guard their territory with determination and focus, Macs Three Wolves Pale Ale won't let an opportunity pass.
Keeping hydrated through each gruelling session is not easy. Enter Moa Session Pale Ale – a beer with toasty malt flavours and earthy-yet-tropical hop tones. Howzat?!
An elegant sport (for the most part), the history and integrity of cricket runs deep. Lindauer Fraise's pinky hue and subtle strawberry aroma is delicate and demure, and adds some vibrancy during the slower moments of the sport.